Ready to Unlock Your Authenticity Using AI? –> 
Authentic Marketing
with AI
Build Your Authority,
Attract Your Ideal Clients,
and Convert Leads to Buyers
In a Fraction of the Time Using ChatGPT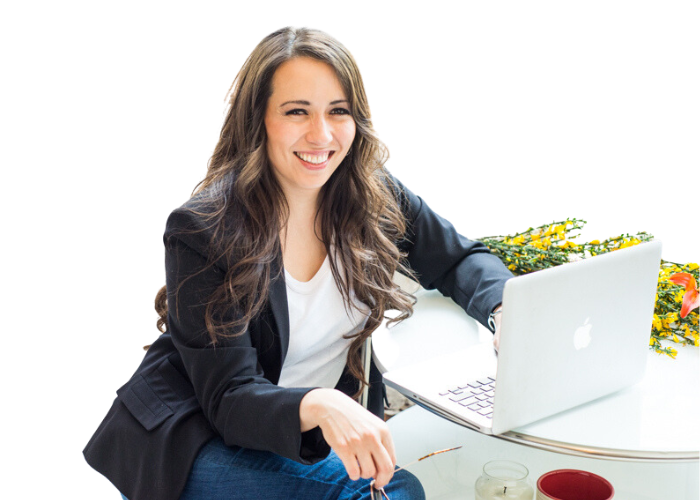 By now, you've probably heard how revolutionary the newest AI tool ChatGPT is when it comes to helping entrepreneurs gain back their time, energy, and money as they grow their businesses. 
But as a heart centered coach who truly cares about using authentic content to connect with the ideal clients you want to serve, you may have been wondering, "How can this revolutionary tool help me without losing my authentic voice and essence?" 
As an expert in messaging, marketing, and sales for the past 23 years, what I know is that copy DOES convert best when it deeply connects with the minds and hearts of your ideal client.
And that's exactly why I created…
Authentic Marketing with AI
Truth: I, too, was initially concerned about using AI to create copy and other forms of communication and content for my coaching business.
How could a robot ever create copy that infuses my personality, experience, soul, everything that makes me uniquely and distinctly me? 
But through the development of my proprietary Heart Speech Model, my team and I have been able to leverage ChatGPT to create volumes of copy that capture my authentic voice and embody the essence of my brand…
So that I can build my authority, attract ideal clients, and convert leads to buyers…
In far less time than it ever took before.
And in AUTHENTIC MARKETING WITH AI, I'm sharing exactly how you can too!
Which means you too will be able to create content like:
Blog Posts
Course Outlines
Social Media Content
nurture emails
website copy
sales emails
Blog Posts
Course Outlines
Social Media Content
Nurture Emails
Website Copy
Sales Emails
Basically any copy you use to market, sell, AND deliver within your business -while saving the time and energy of you and your team!
Time that you can turn around and spend:
With your family and friends
On the bigger vision of your business and life
On whatever you want!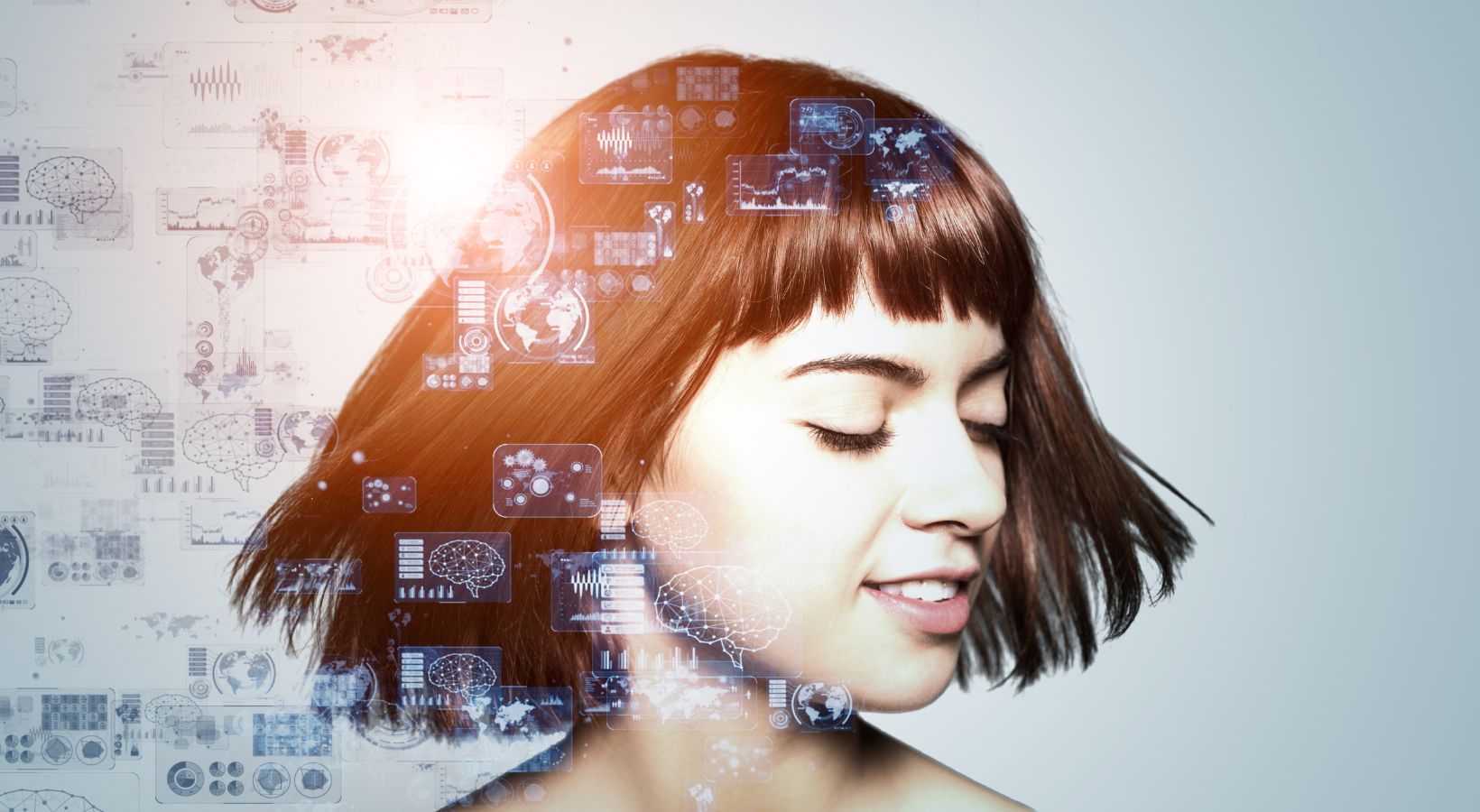 Your Prompt Generator spreadsheet is fantastic! I now am fired up to have this magical tool to help me take my healing practice to a whole new illuminated level, even more aligned with who I am.
This was time so well spent and a no brainer investment. I learned so much to help me in my business but also help me stand out to my potential clients and help them.
This is excellent. I read it through and it's a wonderful introduction for coaches looking at AI. I love that while keeping it casual you really clearly illustrate "the money is in the prompts." Amazing work!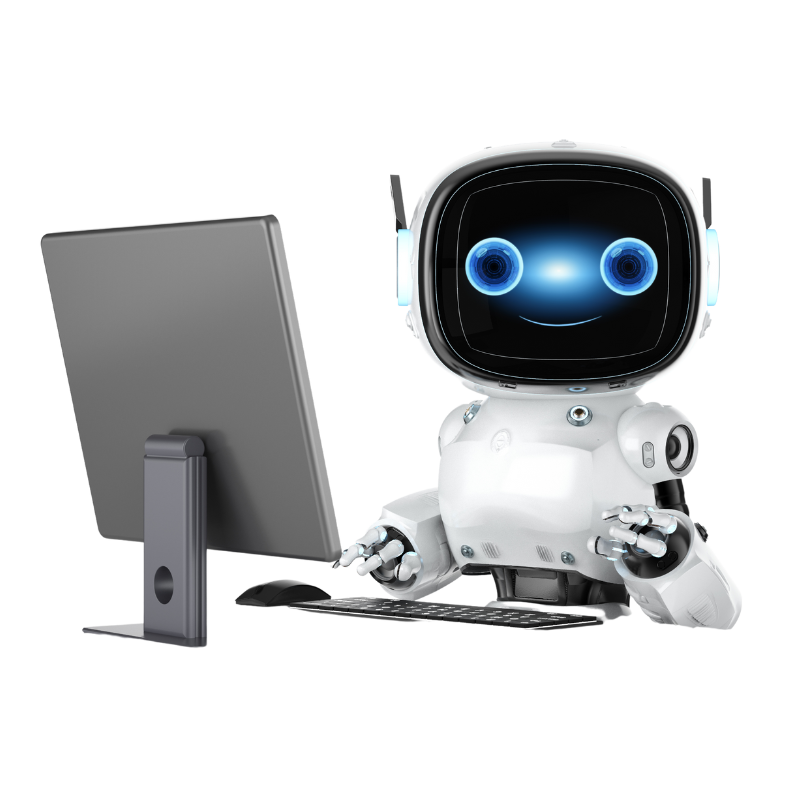 First, ChatGPT must get to know YOU…
in order for it to speak on your behalf… and that is where you need to be your most authentic self! We'll walk you through our step-by-step process to have ChatGPT bring your natural voice into the copy it creates for you. We've got you covered!
We created a comprehensive program that will get you trained in how to use this revolutionary new technology that everyone is talking about.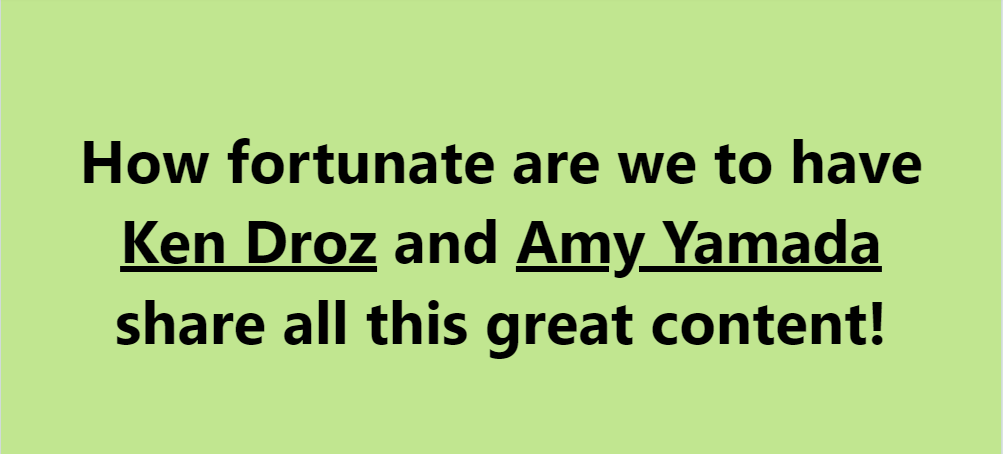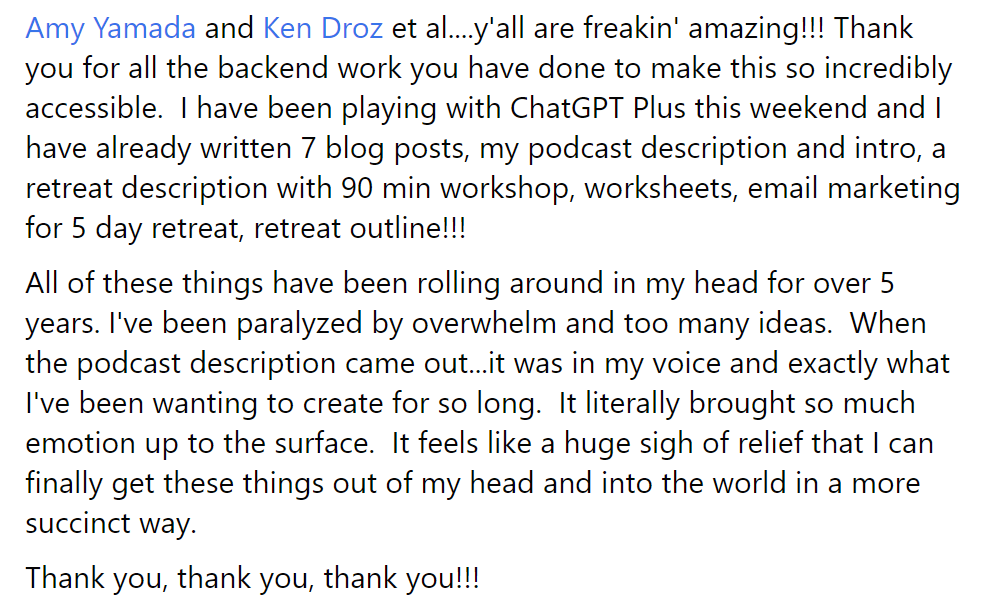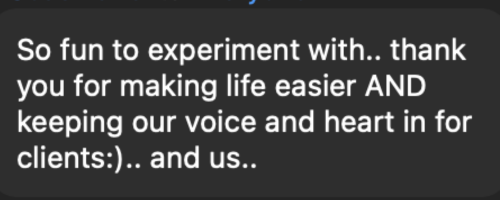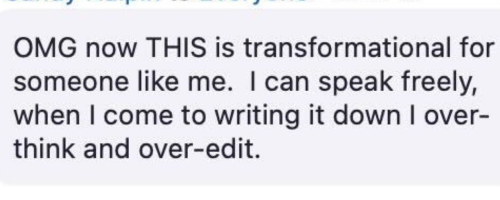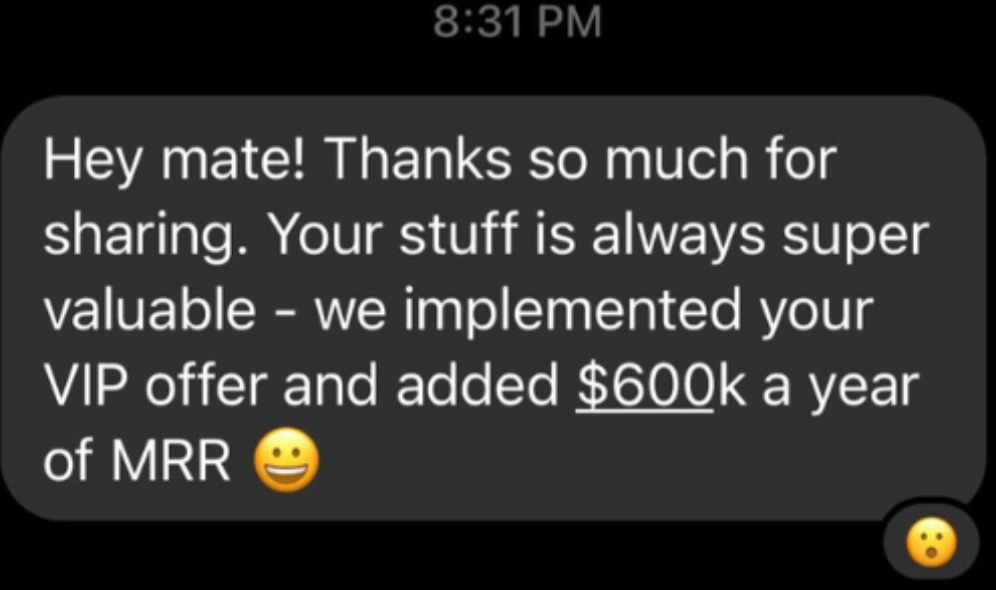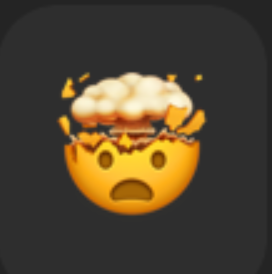 Here's what's waiting for you inside:
Authentic Marketing with AI Program
4 in-depth pre-recorded trainings, breaking down our step-by-step system so you can learn in your own timing and implement our system into your business
Full AI Suite of our Authentic, Client-attracting AI Prompts & Templates
Instant Access to Our Proprietary Prompt Generator
This powerful tool helps you easily build your prompts to secure the most effective and authentic content from ChatGPT, in just minutes
High Ticket Sales Solution:
Simple-to-follow trainings on how to authentically sell high ticket offers without being salesy
60 days Access to a Private Facebook group
Share your content, get feedback, share your challenges and wins, and connect with our community
"The Ultimate Guide on ChatGPT for Online Coaches"
Your comprehensive, go-to reference for creating authenticity with AI
Audience Building Training and Strategy:
Step-by-step process on how to grow your audience and attract your ideal clients
One Time Payment of $1,000
4 monthly payments of $297
Want a sneak peek into the powerful Prompt Generator that comes with your purchase?
I don't have a ChatGPT account or know how it works yet. Will the trainings work for me?
We recommend that you get a ChatGPT account as soon as possible. The trainings can still support you in learning how to use ChatGPT, but it will be most effective if you get a ChatGPT account. 
I already have a copywriter. Will this work for me?
Yes! The use cases for Chat GPT are endless! Your copywriter, content creator or anyone else on your team is welcome to join the calls to understand how to leverage this incredible tool for your coaching business.
How long do I have to access the trainings?
You will have lifetime access. Which means you'll retain access to all pre-recorded content and resources, PLUS replays of all of the live sessions!
What happens after I enroll?
Within 15 minutes of enrolling, you will receive an email message which will include a link to the ChatGPT for Coaches Dashboard where you can instantly access all of the content to get started right away, plus the call schedule to attend the live trainings.
Do you allow refunds?
Because you get immediate access to our entire program and tools, there are no refunds.